Saw's Soul Kitchen and Saw's Juke Joint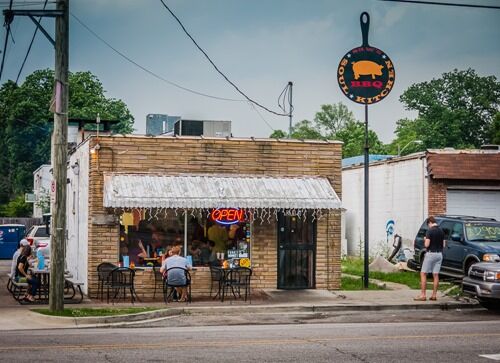 Saw's Soul Kitchen
I'm assuming Saw is the owner of both of these places. The OG restaurant for both of these is Saw's BBQ, which I haven't been to because it closes at 8 and football games run late when I'm hungry. A place that knows their meat, Saw's Establishments create some of the best burgers, pulled pork, and wings I've ever experienced.
Atmosphere: These restaurants don't put a huge emphasis on lights, which is a little bit of a letdown cause the food looks delicious! Soul Kitchen has large windows to let in light to the ~6 tables packed just tightly enough to allow room for a line to form out the door. SK has a counter for ordering, then you sit somewhere until someone comes out of the kitchen yelling your order. If the line stretches out the door and you stand in the threshold while keeping the door open, a very sassy black woman cashier yells at you. The wall decor is old license plates, with street signs and flying pigs (little metal piggies with wingies) on the ceilings. The menu is written huge on the back chalkboard wall. Inside and out, SK is a little run-down, but in an endearing, historical way. Except the bathrooms, those are just normal run-down. Outside are a bunch of tables in a wide alley, which is a good open space for eating. Their paper towels are really nice, almost cloth towels, and are light blue.
Juke Joint is a bit different. It's Saw's third location while SK is their 2nd one. Juke Joint is a sit-down restaurant with a lot more room and a bit more class. They have many TVs, which I dislike because they detract from the meal conversation. But JJ shares much of its menu with SK, it just has a bar and a few less options. Same blue towels here, less decor. More wood structure exposed.
Actual Food: Soul's Kitchen serves this sweet tea chicken sandwich, which I'm not sure how it's made. My first one was phenomenally juicy and just a blindingly stunning sandwich. Past the first, their quality went successively down. They also had some killer deviled eggs, but I'm pretty sure that part was just defrosted. Shrimp and grits was another dish, very salty and not super tasty. Grits, by nature, are gritty. Get lost in your mouth cracks and you end up chewing on millet for up to 3 hours afterwards. Sandwich was killer though.
The wings were… so thick and juicy. For my first bite, I thought they were undercooked because of how amazingly not-dry they were. They had house-made white sauce and red sauce. I don't know the difference, but sassy black counter lady wouldn't let me try both. White sauce is very peppery, get it on the side. Red sauce is better to get on the wings. Very tasty and filling either way. Normally I dislike wings (Buffalo wild wings servers always bully me into getting sauces I can't handle), but Saw's wings are probably make my top three on their menu.
At Juke Joint, they were completely out of potatoes to make bakers with, which is whack even if I didn't intend to order that anyway. Once my math teacher went into a Subway, and immediately before ordering, the sandwich artesian said "We're out of bread." I felt similarly. I had a nice pulled pork sandwich and an apple pie dessert! The pie was fairly one-person sized, and tasted unprocessed. Kinda expensive though. The sandwich was, as always, phenomenally tender and savory. Not enough sauce though. I think I may have been able to remedy that myself with the sauce bucket on the table, but too late now. Tasty meal all the same.
Rating: 36/47 lack of potatoes. Tasty food, but some of it obviously pulled from the freezer/a can. Nice staff half the time, and I'm gonna be picky: Decor too busy at Soul Kitchen, decor too sparse at Juke Joint. Sorry Saw. Thanks for the memories.